NEW MONOGRAPHY  2017 ;
' ONCE A WORLD '

COLLECTOR'S EDITION ;
SIZE OF THE BOOK : 24,2×29,6CM | OBLONG | HARDCOVER | 144 PAGES, MORE THEN 90 IMAGES IN COLOUR |
VANSPIJK/REKAFA PUBLISHERS | ISBN 978 90 6216 908 5 | PRICE € 29,95
FOTO INCLUDED MONOGRAPH IN LUXURY BOX | PRICE € 195,00
FRAMED WITH MUSEUM GLASS | PRICE € 295,00
Excluded shipping costs. The edition of the photography is 10.
Ordering ;  Vanspijk/rekafa Publishers       www.vanspijk.com     or
mattie schilders;   www.mattieschilders.nl
                 
'Growth' 1,2   2017     24,2×29,6 cm                                           'Windows in time' 1,2   2017     24,2×29,6 cm                                'The light of spring' 1,2   2017    24,2×29,6  cm
' SLUMBERING LIGHT '
Paradise, here on earth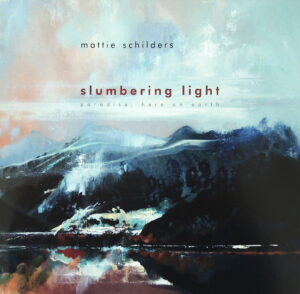 A  new Monography  2012, 024 x 024 cm. 48 Pages, Price € 25,-
Alone in his studio with an empty canvas on his easel in front of him, each time the painter asks himself the same pressing question: what should he do, what should he paint, seeing that everything has been painted before. Museums are full of pious madonna's, cows in fields, farmers playing cards, slumbering nudes and vases of flowers. What can you add to that as a painter of today? At the end of the nineteenth century, when the romantic view of nature had passed its climax, this problem arises for the first time and artists find an answer to the question: from now on they will focus on the landscape of souls, there where the inner landscape and that of the brush meet each other. From that moment on the view of nature is coloured by temperament. It is the mood of the painter that sets the tone of the work he is creating.
In the new series of paintings, 'Paradise here on earth', that Mattie created in the past few years, the painter seems to be in tune with this idea and tries to 'reinvent' the landscape, a genre that has been very close to his heart for more than thirty-five years. His analysis of the essence of the landscape has previously lead to series of paintings with titles such as 'bevriend vuur' (friendly fire), 'ongekend land' (unknown land), 'from the underworld', or 'a new silence'). They were often the result of field trips to untouched areas where the earth has remained the same as on the first day of creation. All the elements can be seen: earth, water, fire and air. They can be fickle and frightening, magical and mysterious, all at the same time. Sometimes you get the feeling that the landscape is no longer the subject, but the journey, a journey of life through an unknown land, of which the painter gives an account in the shape of paintings which offer the viewer the opportunity to view the landscape through the eyes of the painter.
Not a landscape with trees, mountains, valleys, lakes or splendid cloudy skies. Not a literal image, no mimetic ideal, but an expressively charged image. This means that there are no landscapes in the traditional sense of the word to be seen, but more a 'landscapic' view. A translation in paint, in colour, in structure, rhythm and movement, of previously seen landscapes, wherever, read with a poetic vision. Painting is after all 'silent poetry'.
That is the moment when the painter stops. Up to here and no further. These works purposely keep the image partly hidden, to leave something to the imagination of the viewer.
Ruud Ringers, Chaam 2012.
↕
EEN NIEUWE MONOGRAFIE
2012
Een nieuwe collectie schilderijen is ontstaan uit de vele observaties aan het ' lago di Como ', Italië. Zowel, in Italië als in Nederland is hard gewerkt aan de totstandkoming van deze nieuwe reeks. In een steeds weer andere tentoonstelling zullen deze kunstwerken worden gepresenteerd, zowel in Nederland als in het buitenland.
Het boek heeft een afmeting van; 24 x 24 cm. 48 pagina's.
Kosten € 25,-
Uit ; ' Sluimerend licht ' Juli 2012.
Alleen in het atelier met het lege doek voor je op de ezel dient zich voor de schilder toch telkens opnieuw de klemmende vraag aan: wat te doen, wat te schilderen nu alles al geschilderd is. Musea hangen vol met allerhande madonna's, koeien in de wei, boeren die kaartspelen, sluimerende naakten of vazen vol bloemen. Wat kun je daar als schilder van nu nog aan toevoegen? Eind negentiende eeuw, wanneer de romantische natuurbeleving over haar hoogtepunt heen is, speelt deze kwestie voor het eerst en vinden kunstenaars een antwoord op deze vraag: voortaan richten zij zich op het landschap van de ziel, waar het innerlijk landschap en dat van het penseel elkaar ontmoeten. Vanaf dan wordt de blik op de natuur gekleurd door het temperament. Het is de stemming waarin de kunstenaar verkeert die de toon zet voor het werk dat hij onderhanden heeft.
In de nieuwe reeks schilderijen die in de afgelopen jaren onder de titel 'Paradijs, hier op aarde' zijn ontstaan lijkt Mattie Schilders zich bij deze opvatting aan te sluiten en tracht hij het landschap, het genre dat hem nu ruim vijfendertig jaar bij uitstek aan het hart ligt, opnieuw 'uit te vinden'. Zijn onderzoek naar het wezen van het landschap leidde eerder al naar schilderijreeksen met titels als 'bevriend vuur', 'ongekend land', 'from the underworld', of 'een nieuwe stilte', vaak het resultaat van studiereizen naar ongerepte oorden waar de aarde zich nog toont als op de eerste scheppingsdag. Alle elementen komen aan de orde: aarde, water, vuur en lucht, grillig, angstaanjagend, sprookjesachtig en mysterieus tegelijkertijd. Soms bekruipt je de gedachte dat niet het landschap zozeer het onderwerp is, als wel het onderweg zijn, een levensreis door letterlijk ongekend land, waarvan de schilder verslag doet in de vorm van schilderijen waardoor de beschouwer de kans wordt geboden mee te kijken door de ogen van de kunstenaar. Niet een landschap met bomen of bergen, dalen of meren, of weidse wolkenluchten. Geen letterlijke weergave, geen mimetisch ideaal, maar een expressief geladen voorstelling. Er zijn dan ook geen landschappen te zien in de traditionele zin van het woord, maar is er eerder sprake van iets landschapachtig , een vertaling in verf, in kleur, in structuur, ritme en beweging van eerder geziene landschappen, waar dan ook, gelezen met dichterlijke blik, want schilderkunst is immers 'stomme poëzie'.
Ruud Ringers, Chaam Juni 2012.
 ↕
MORE MONOGRAPHIES, CATALOGUES AND BOOKS;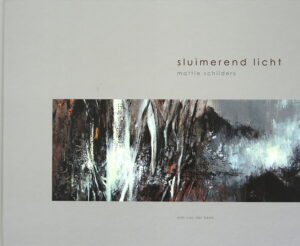 ' SLUIMEREND LICHT ' 2010
Monography. Author Wim van der beek. Prijs € 30,-
ISBN / EAN; 978-90-70108-54-0 NUR; 642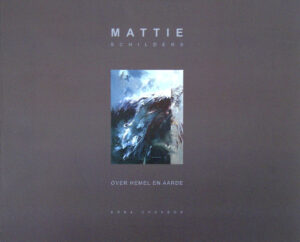 ' OVER HEMEL EN AARDE ' 2007
Monography. Authoress Erna Charbon. Prijs € 30,-
ISBN 978-90-79321-01-8. NUR 264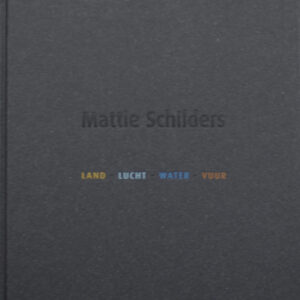 ' LAND-LUCHT-WATER-VUUR ' 2005
Cataloque. Author Sjef Smid  Prijs € 25,-
ISBN 9081026615
Brochure Essent; 4 luik Mattie Schilders 2005. 259 kb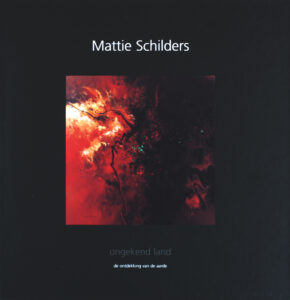 ' ONGEKEND LAND ' 2004
De ontdekking van de aarde
Monography. Authoress Annelette Hamming. Prijs € 50,-
ISBN 90-6657-342-2. NUR 642
' ONGEKEND LAND ' 2004
Book and cd. Modern Jazz Music by
Jeroen van Vliet, piano, Mete Erker, sax and klarinet.  Price € 65,-
' ONGEKEND LAND ' 2004
Jubileumbox 75 Pieces. Numbered, Entitled, Dated and Signed
Monography plus c.d. Included 5 Serigraphies in 4-colourprint. 027 x 027 cm. Price € 525,-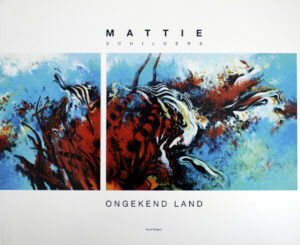 ' ONGEKEND LAND ' 2002
Book.  Author Ruud Ringers. Price € 15,-
ISBN 90-800712-3-4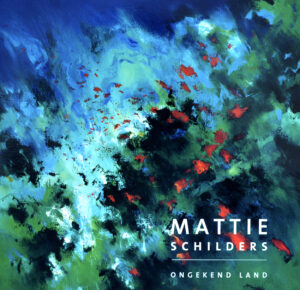 ' ONGEKEND LAND ' 2001
Book. Author Ruud Ringers. Price € 15,-
ISBN 90-800712-2-6
' EEN NIEUWE STILTE ' 1998
Monography. Authoress Annelette Hamming. Price € 24,-
ISBN 90-76079-04-8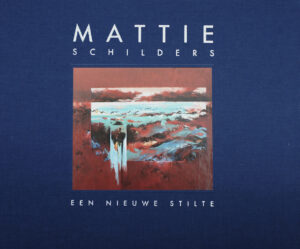 ' EEN NIEUWE STILTE ' 1997
Cataloque. Authoress Annelette Hamming. Price € 10,-
ISBN 90-76079-01-3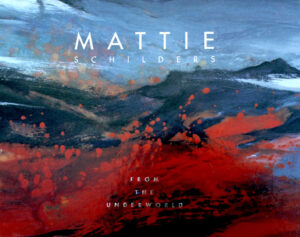 ' FROM THE UNDERWORLD ' 1994
Monography. Authoress Annelette Hamming. Price € 25,-
ISBN 90-72206-08-8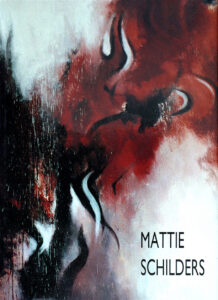 ' VUUR VAN VERRUKKING ' 1991
Monography. Author Henny van de Louw. Price € 15,-
ISBN 90-800712-1-8
Ordering; mattie.schilders@planet.nl
Centraal boekhuis, Culemborg